---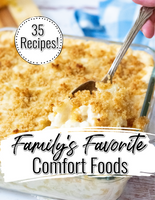 35 Family's Favorite Comfort Food Cookbook
To Simply Inspire
There is some food that is like a warm , soft hug! It brings back memories, makes you feel at home, and satisfies all your cravings!
We've gathered together the best casseroles, soups, pasta dishes, and other comfort foods that are rich, delicious, and sure to be a hit with your family! 
In this cookbook you'll find classic favorites that are absolutely delicious, easy to make and super comforting!
This cookbook is a collaboration of recipes from several amazing moms who love to cook and share their ideas with other moms to make their lives easier!
What's included: 
10 Chicken & Poultry Recipes - Chicken Pot Pie, Chicken Alfredo Bake, and other amazing casseroles

6 Beef Recipe - Salisbury Steak, Meatloaf, Beef Stew and more

5 Pasta Recipes - Baked Ziti, Shepard's Pie, Pizza Casserole and more

7 soup Recipes - French Onion Soup, Chili, Butternut Squash Soup and more

7 Other Delicious Recipes - Funeral Potatoes, Tuna Noodle Casserole, Crock Pot Pork Loin and more.

**This is a digital product. No physical item will be shipped.**